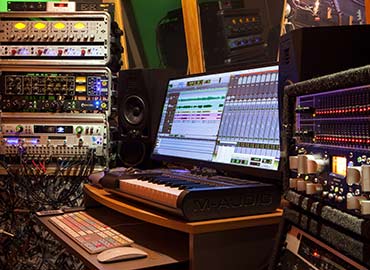 Overview
Welcome to my website! Rockpile Recording is a full service digital recording and production studio located just minutes from Rockport's shops, restaurants, beaches, quarries, and parks. Rockpile is also nearby the world famous Shalin Liu Performance Center, renowned for its intimacy, ocean view, and superb acoustics.
The Space
The studio is located on the lower level of a large home in a quiet community. During the design and painstaking construction every consideration was made to maximize the quality of sound generated in the space. The intention from the beginning was to design a room that would easily allow a 5 or 6-piece band to record live. Each of the three rooms was designed with double walls and windows, providing great sound isolation and still a clear view between all the players as well as the control room.
Sound absorption panels are placed in selected locations around the room in order to tame the sound, not completely deaden it. No two walls are parallel. The ceiling has maximum absorption down to nearly 120Hz, while the floor is hard wood, allowing for early reflections while avoiding unpleasant standing waves. The windows are angled so as to further scatter sound and smooth any unwanted reverberation. All this adds up to you getting a quality recording.
The Goal
A dedication to quality is central to the final product. With a comfortable, well thought out space and great equipment, the objective at Rockpile is to create sounds that move people and make artists happy. Helping players feel at ease with comfortable lighting and an overall relaxed atmosphere makes for a better performance. Add to this a great headphone monitoring system where each musician controls his or her own personal mix, and the result is you sounding your best.
BACK TO ABOUT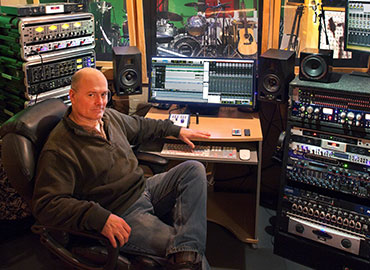 Greg Dann
Owner Greg Dann is a multi-instrumentalist with a diverse background in both music and the sciences. He has spent many years developing quality sounds in a compact space, and is happy to have successfully done so for artists of every type on many recordings. With a background in physics, Greg has an understanding of acoustics, along with the skills to properly capture sounds using high-end mics and electronics. His relaxed and accommodating manner, and intimate understanding of music on many levels also makes him a useful source for any of your production needs.
Feel free to contact Greg for a consultation to see if Rockpile is the right location for your project.
BACK TO ABOUT
Services
Bands
Bands of all kinds are welcome here at Rockpile, whether it's for a demo, EP, single track, or full album project. During tracking each musician is provided with a simple, personal mix that they can control independently. Hearing exactly what you need to hear while playing - coupled with the ability to have full visual contact with all the other musicians - makes for a cleaner, faster recording process, and invariably a better sounding performance and final mix.
Singer/Songwriters
Singer/songwriters find a very comfortable environment to play in at Rockpile. With soft, even ambient room illumination and warm lamplight, playing a heartfelt piano composition or acoustic guitar piece is a thoroughly pleasant experience.
Production Services
Production Services are available for any and all projects ranging from simply engineering to completely creating music from a hummed melody. Advice and musical guidance is always available if requested.
Mixing Services
Discrete mixing of tracks is one of the several services we offer at Rockpile Recording. You need only provide your raw tracks, and we'll meticulously work them into the best sounding stereo mix attainable. We encourage clients to participate in the process, but we're equally happy to work on our own and provide you with a completed, master-ready file. Sharing the files on Dropbox is simple and is a service provided free of charge.
Audio Repair
We can analyze a piece of audio and do some amazing things, like remove room sounds or reverb, remove background noise like crowds or cars or honking horns. Old vinyl records can also be restored and converted to cd or email-able files. All without affecting the sounds you want to keep. It's quite impressive when you see how this process works.
Background or Theme Music
Music for any kind of multimedia project can be produced at Rockpile in any number of styles. We have direct access to a huge talent pool of local musicians who, when called upon, can perform in virtually any combination or style desired.
Voice-overs
Voice-overs for web, radio, and TV are always welcome. Projects can also easily be done on location with a portable, high quality rig.
Audio Books
Audio books are just another of the many services offered at Rockpile. This can be done in the studio, or, like any simple voice-over job, can be done in your home with a portable system that will make your voice sound great.
BACK TO ABOUT
Testimonials and Clients
"I had the great pleasure of working with Greg Dann at Rockpile Recording during the production of my CD 'Ten True Things and a Filthy Dirty Lie.' Greg is a conscientious, smart and fast engineer, who will work with you to find solutions to all your recording or mixing needs. I was working cross-platform with tracks from another studio, and Mr. Dann was most accommodating and efficient in making the sessions happen to my specs. I left with exactly what I needed. The studio is a comfortable, unrushed place to track as well as mix: the vibe is good, the mics, preamps and compressors are of high quality and you know you're getting solid, good sounding tracks with Greg behind the console. 'Ten True Things and a Filthy Dirty Lie' ended up being named among the Top Ten Boston-area albums of 2010 by Noise Magazine, and I have no doubt part of that can be attributed to the high-quality tracks we got out of Rockpile Recording. Highly recommended!"-- Inge Berge, Musician/Writer/Producer
"We knew Greg as a diversely talented drummer on Boston's North Shore, from the madness of rock trio FUNBUCKET to backing singer songwriter CHRISTINE BAZE. Greg is a friendly & knowledgable guy, and when we learned he ran a studio we knew we wanted to record there. Rockpile Recording has fair rates and worked with us to set a fair budget, one which they remained steadfast to throughout the process. Greg not only masterfully engineered the track, he also played the drumset. The final result "Tell Me A Good Lie" was featured on our debut album Dreamsteering and the song received airplay on Rick Carr's weekly show "Run the Gamut" (KZFR 90.1 FM Chico, CA) We couldn't be happier with Rockpile Recording and wholeheartedly recommend Greg Dann to anyone who needs to capture their music. " -- Joe and Renee Cardoza
"I recorded a CD of original music at Rockpile in 2008. Greg Dann's musicianship, as well as that of his support musicians, was excellent. His ability as a recording engineer was well worth the price of admission as well. The bar was set high by Greg and his musicians and, as a result, we all achieved a product that I was very happy with. I would recommend Greg and Rockpile to anyone interested in making a good musical product" -- J.R. Wilbur
"It is been a pleasure working with Greg Dann over the years at Rockpile production studio. Greg has a ton of experience and brings a high musicianship, a deep knowledge as a producer and an excellent engineer. The sound quality is incredible in that studio whether you are cutting vocals for a commercial, or you are a songwriter building a track from scratch. Greg is the man!"-- Leo Ciaramataro
"I have worked with Greg on many things over the years as a musician, an engineer, and producer and I can't say enough good things about him. His laid back, can do attitude and knowledge in the many facets of the music industry makes any process easy and enjoyable. His recording studio has a spacious layout with great lines of sight for bands looking to have that tracked live feel without the messy bleed, great mic selection and understanding of the recording process. Highly recommended."-- Rocco DeRosa Songwriter, Producer, Multi-instrumentalist for The Naked Stills
"Working with Greg was a fantastic experience! My friend and I had no prior recording experience, and Greg led us through the whole process. He was knowledgeable, helpful, honest, and a lot of fun to work with. The studio space met all of our needs, and Greg helped us with every step. We emerged with a CD that we love! I would recommend working with Greg to anyone."-- Gen Marvin
"We have recently worked with Rockpile Recording on a few projects and our experience has been outstanding. Greg Dann is knowledgeable, easy-going and a pleasure to work with. We look forward to working with Greg again on future projects." -- Alain Callewaert
"Hi Greg, I wanted to send a note thanking you for a wonderful experience at your Rockpile Recording Studio. I was pleasantly surprised at the updated, high tech equipment and recording set up, while appreciating  the personal,  intimate atmosphere of your home-based studio. This atmosphere increased a relaxed creativity while providing the technical outcomes I was looking for. Your attention to detail and perfection was truly appreciated and was evident in the final product. This recording session was very important to me and the outcome exceeded any of my expectations. You handled my original work with care and expertise. I look forward to our next endeavor!" -- Marty Dunphy
"Nice studio intimate with great talent and personality would recommend this place to anyone" -- Mel Howarth, Riverside Project
"When I first walked in to Rockpile to do my demo, I wasn't too sure about what I could accomplish there... but don't let the compact space fool you! The iso chamber is top-notch, the gear is fantastic, the space wonderful and inspiring, and the session guys he brought in for me - including Greg himself - were all excellent players, well chosen for the sound. Greg was fantastic, always listening for what I wanted, quick with good suggestions, and just an all around great guy and excellent engineer. I will definitely go back to Rockpile for my full-length recording."-- Matt Laurence, Soundcheck String Band, yeP!
BACK TO ABOUT
Links
Bait and Tackle Ad Co.
Partners and Simon
Hyperactive
Netflix
Antenna International
Philips
McDonalds
Southern poverty Law Center
Ludwig Vintage Drums
Peerless Mastering
John Bellenis Photography
Secret Service (Band Website)
Matt Laurence (Web Design, Bass)
Marina Evans (Singer/Songwriter)
Dave Mattacks (drummer/percussionist)
Dan King (singer/songwriter)
Inge Berge (singer/songwriter/producer)
Leo Ciaramitaro (drummer/educator)
Dave Osoff (keyboardist/composer)
BACK TO ABOUT